Hi there! I'm Mrs. White, and I blog over at Little Homemade Housewife. Currently I'm a stay at home wife, and this, understandably, leaves me with a bit of time on my hands. As my family learns more and more that this is the case, I seem to have a slow trickling of requests being made of my crafty abilities. My brother-in-law just made one, and I've decided to come share it with you, because it's really quite fabulous. It is the bearded beanie, or as I like to call it, the lumberjack hat.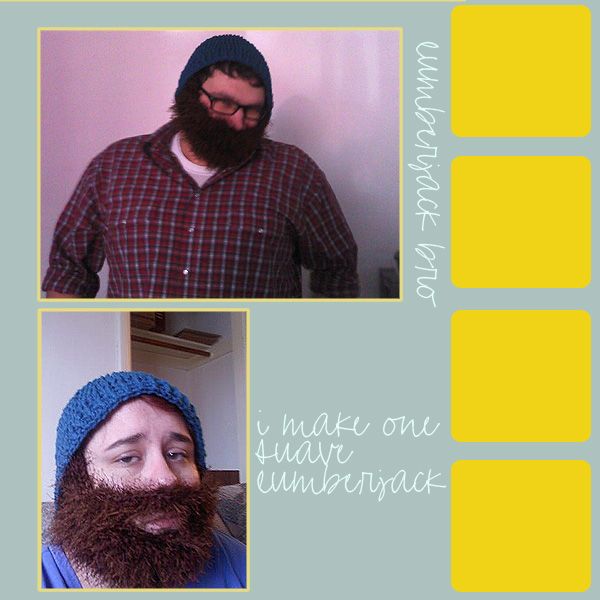 Isn't it to die for? Yes, okay, it's a little silly, but I absolutely adore it. And yes, that beard is attached to the hat. And may I say, that this hat would be my go to hat in winter. It is so warm! If you don't mind looking a smidge goofy, then this hat is for you!

To make this, I used a H/8 5.00M crochet needle, for both the hat and beard. Some basic worsted weight yarn for the hat, and Caron simply soft with brown fun fur for the beard. I really suggest making sure you choose your yarn carefully for the beard, since it's going to be right up against the skin, and might cause irritation.

The pattern I used for the hat I made came from I'm Topsy Turvy, though I cut out rows 10-17, and only did two repetitions of the band. I think this just has to do with the thickness of my yarn and my gauge with the needle I was using. She also has a really great pattern for stripes. It's a pretty straight forward pattern, even for someone, like me, who doesn't typically crochet. This is probably the first project I've done that I've a) finished and b) required more than a single crochet. So even if you've never crocheted before, I suggest you give this a go. Also, protip, youtube is a phenomenal resource when it comes to learning new stitches. Just google the stitch you're confused about and videos pop up. It's how I made my way through this.




One tip I did want to offer, which was something that confused me at first, is how to start your rows with the chain stitching and then into the double crochets. The way I found to do it, and it worked for me, was to chain outwards (in the first picture), and then you come back in on your chain, to start your double crochets, since dc's are supposed to start like three stitches in.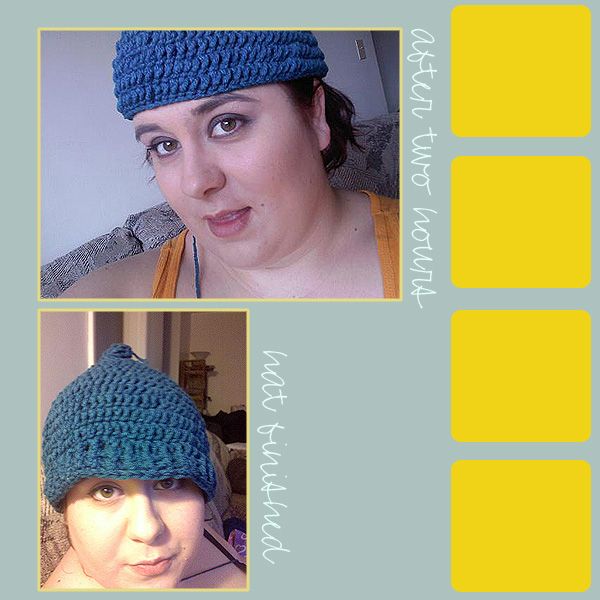 This is relatively an easy project. The picture to the top was after two hours of work, the picture below probably had a combined effort of two more hours. The beard was an hour, tops. I really enjoyed making it, and truthfully I might make me one before next winter. I loved wearing it before my brother came to pick it up!

I want to thank Imprintalish for having me, and I hope this project inspires or just brings a smile to you today! Happy crafting!
Thank you Mrs.White for sharing such a fun project! I have never seen this before, but it is absolutely hilarious and I know of a few men that would love this! It would also be perfect for our 'so called' (I say that lightly, because it is March and 26 degrees!) Canadian winters!